HOW TO MAKE YOUR OWN
OVERVIEW VIDEO FOR YOUR MISSION
DOWNLOAD THE FREE GUIDE TO MAKE A MINISTRY OVERVIEW VIDEO
This signs you up for our free weekly ``Ministry Videos Made Simple`` emails
and also a monthly ``New Releases of Ministry Films`` from us. Don't worry, you can always unsubscribe.
WHAT WOULD THE
PERFECT MISSION VIDEO

LOOK LIKE?
Seriously. Think about it.
If there was
one video

that had the qualities you needed all year long what would that look like?
If you're anything like the
ministries we have made videos

for
here is what we know about you.
You would love a tool that can share what your ministry does, moves the heart of the viewer but doesn't confuse them.

You would want it to not only ask for donations but also be used to recruit volunteers and board members.

You don't like the one size fits all approach because your mission is unique in who it reaches and where it does ministry.

That is why
we made you

this Free How To Guide For a Ministry Overview Video.
After helping hundreds of ministries over the past 20 years we find that this guide works best in creating your video to meet most of the needs of your ministry. This flow is best as an interview driven video with footage of what your ministry look likes. With this Free Guide of a Ministry Video you can partner with your local videographer, film it all on your own, or hire us to help you make it. This step by step process will give you a clear vision for what the video needs to look like.

Having a video like this
will help you

share your ministry at:
In Person Banquets/Fundraising Events

Online Fundraising Events

As a link in your email signature

On the landing page of your website

Sent as primer for a meeting with a donor

Sent to a volunteer or expert for recruitment

Or used in a church to share what your ministry is doing
Once you have this video you will be able to use it for at least the next 2-3 years. And even after that you can update it as needed to make it last longer.
DOWNLOAD THE FREE GUIDE TO MAKE A MINISTRY OVERVIEW VIDEO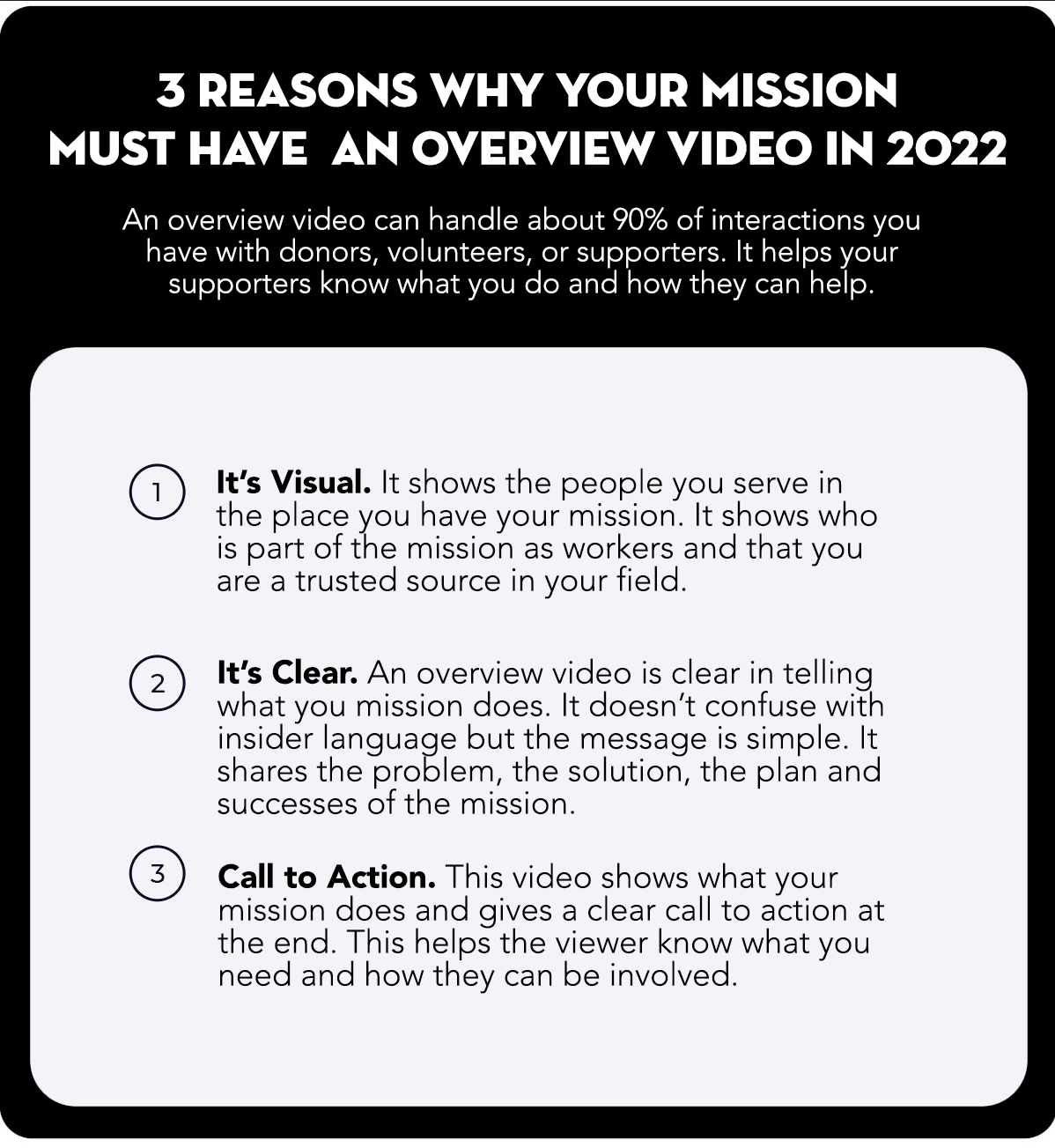 DOWNLOAD & WATCH
Download the free guide and then watch the video to get a deeper understanding of how it works.
PLAN AND FILM IT
Think about who you want to interview. 4-6 staff, or ministry experts and 2-3 ministry recipients. You also want to film footage of what your ministry looks like to show over the people talking.
EDIT AND SHARE!
Edit all the parts together according to the flow showing the unique parts of your ministry with your visuals and your people speaking.
WHAT WILL THIS
MISSION VIDEO

LOOK LIKE?

We seriously love to geek on out on video stuff.
Helping people pick find the best camera gear, sound gear, music choice, and we love to give free editing feedback on videos.
Reach out below and let us help!